Description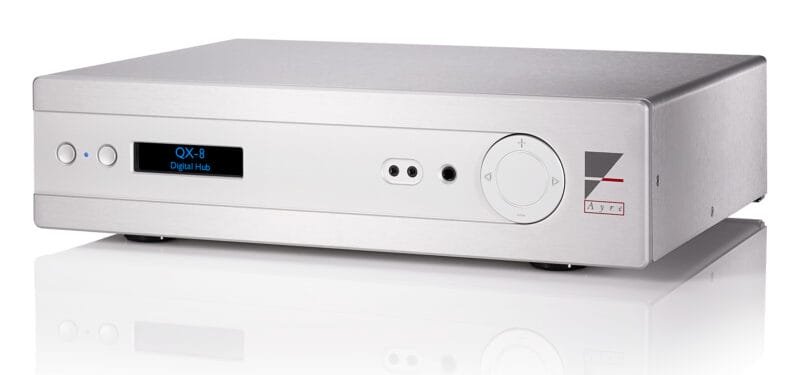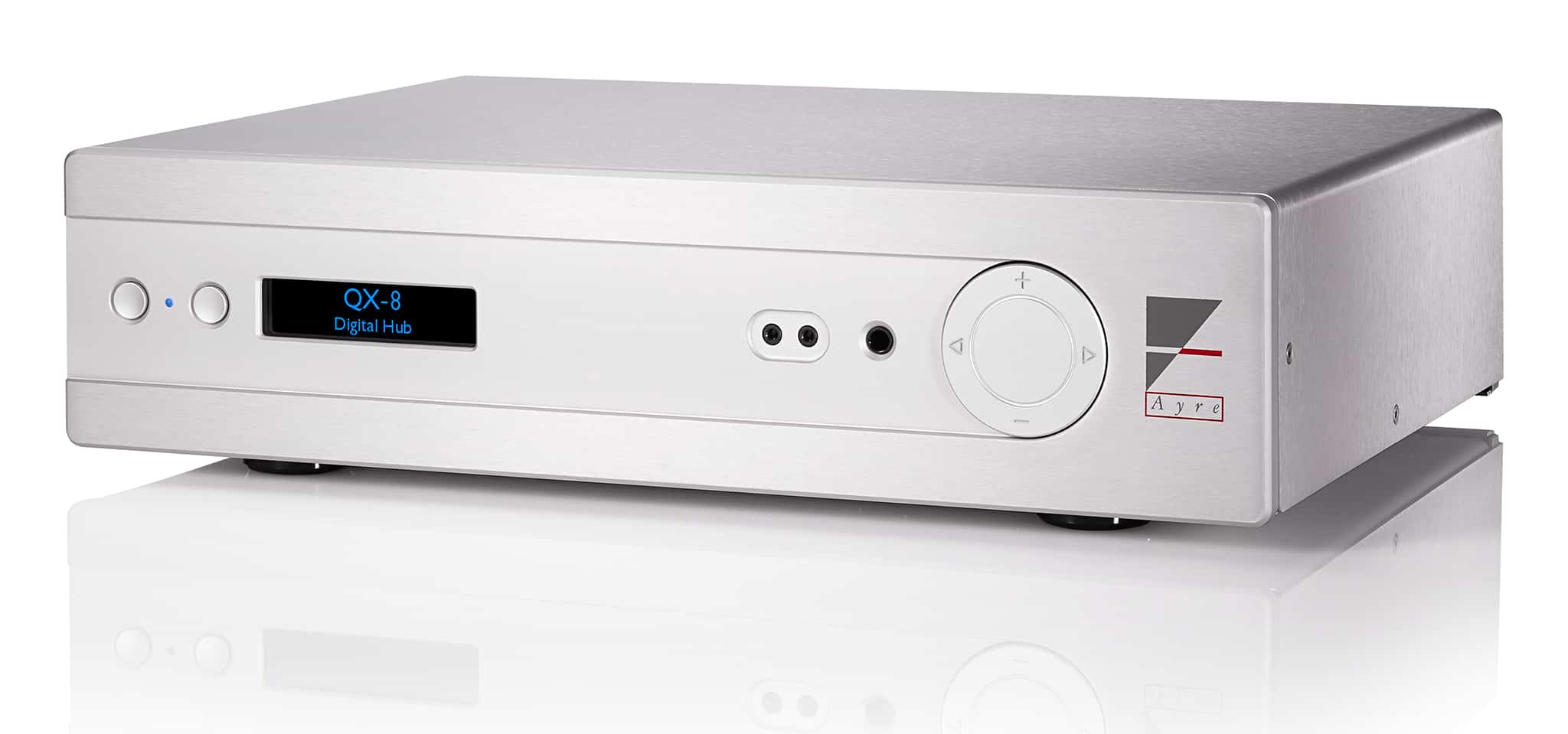 Holm Audio – 2050 West 75th Street, Woodridge, IL 60517 – Call 630-663-1298 – Ayre EX-8
Just like the Ayre QX-5, the Ayre QX-8 presents users with a selection of input formats for Ethernet, asynchronous USB, asynchronous S/PDIF and optical. Due to its modularity in design, Ayre QX-8 users can choose Ethernet, USB or both options at time of order. Ayre also provides the owner with the option of adding an input module.
Like other products in Ayre's 8 Series, the Ayre QX-8 features an aluminum chassis. There are two buttons on the front panel, allowing the user to place the unit on standby mode or to enter other setup functions. When the DAC is in its setup mode, the volume control ring on the panel also functions as a navigating tool. The display on the panel enables the user to easily see which input is selected along with the current file's sample rate.
If the Ethernet input is selected, the display also show's file metadata. Additionally, the user can set the display to automatically turn off at a set interval for noise reduction or to simply preserve the display's service lifespan. Both single-end and balanced headphone outputs are also on the unit's front panel.
The Ayre QX-8 has a multiple-function remote control that can also function as a control handset with other products on Ayre's 8 series line.
For wireless connectivity, the rear panel of the QX-8 features two USB ports that can interface with the wireless adaptors. These USB ports may be utilized for directly accessing files from USB flash drives. Also on the rear panel is a firmware update port and the user's choice of single-end or balanced outputs. For linking to other components, a pair of AyreLink connectors are readily available. The master AC switch can be found under the IEC power inlet on the back panel.
Ayre QX-8 Specifications
Specifications
Audio Inputs
USB: 44.1, 48, 88.2, 96, 176.4, 192, 352.8, 384 kHz
PCM 16, 20, 24 bits
DSD64 and DSD128 (as DoP)
Optical/SPDIF/AESEBU: 44.1, 48, 88.2, 96, 176.4, 192 kHz
PCM 16, 20, 24 bits
DSD64 (as DoP)
Network: 44.1, 48, 88.2, 96, 176.4, 192 kHz
PCM 16, 20, 24 bits
DSD64 (as DoP)
Outputs
Line Output: 4.5 Vrms balanced, 2.25 Vrms single-ended
Headphone Output: 9.0 Vrms balanced, 4.5 Vrms single-ended
XLR Input Polarity
Pin 1 = Ground
Pin 2 = Non-inverting (Positive)
Pin 3 = Inverting (Negative)
Power Consumption
60 watts in operating mode
Dimensions
17.25″ W x 13.00″ D x 4.5″ H
(44cm x 33cm x 11.5cm)
Weight
12.5 pounds (5.7 kg)
Ayre QX-8 Features
-Zero-feedback, fully-balanced discrete circuitry.
-Asynchronous S/PDIF input.
-ESS ES9038Q2M DAC chip.
-Custom digital clock
-Minimum phase digital filter.
-Single-pass 16x oversampling.
-Diamond output stage.
-Equilock gain stage.
-Linear analog power supply.
-High-speed circuit board material
-Up to eight digital inputs: Ethernet, Asynchronous USB, AES/EBU, S/PDIF (2), Optical (3) AyreLink communication system.